RALLY this Saturday May 14
The Parallel Elections May 21 2022
The Parallel Elections sponsored by Australians involved in Common Law Assemblies across Terra Australis. May 21 2022 Watch the video here and read more:
https://commonlaw.earth/reclaim-and-restore-the-commonwealth/
Find the flyer to download and print or share here: https://commonlaw.earth/election-flyers/
---
---
Shungite for Radiation from LRAD / ADS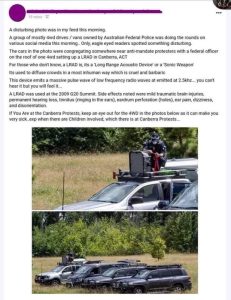 People who have been subjected to the weapons that are being deployed by the ACT security forces have a number of symptoms following exposure including dizziness, mild traumatic brain injuries, permanent hearing loss, tinnitus (ringing in the ears), eardrum perforation (holes), disorientation, headache, nausea, and tiredness possibly caused by LRAD weapons. Some victims from the Canberra deployment however have burns to various parts of their bodies including the face - plus nausea, vomiting, fevers, profound headaches, fatigue and diarrhea . These symptoms and injuries look very much like radiation poisoning or sickness and radiation burns. LRAD cannot do this - LRAD is an acoustic device!
The device that was used is actually called ADS - Access Denial System - which uses a 5G type millimeter wave frequency as a targeted weapon. It appears that at least some of the devices used in Canberra were disguised as LRAD - what in combat are called Deception Devices - weapons or devices that are disguised to look like something else - a kind of 'Trojan Horse'.
You can see USA alternative media commentary including an interview with Mark Aldridge at stewpeters.tv
Shungite is proven to be able to bind with, transmute and eject radioactive isotopes. You can use shungite in the form of powder as a cold poultice paste on injuries, particularly burns, and consume shungite powder and shungite (fullerene) water for detox of radiation and other toxins. Convoy to Canberra people with burn injuries may have received a dose of radiation and therefore need to detox from this using shungite. Shungite is particularly proven to assist in healing for burns victims. Amongst other powerful properties Shungite is the most powerful free radical scavenger available and will assist in detox from all environmental contaminants in water, the atmosphere, food, textiles, cosmetics and other poisons. For more information send an email to [email protected]
Click / Tap to find out more about how to detox from radiation and environmental toxins >>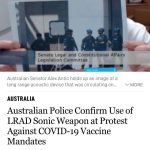 In addition, a glutathione REDOX supplement will aid in overall recovery and a topical REDOX glutathione gel will help reduce or eliminate scarring. Find out more here >>
And don't forget to help victims get together to launch a group class action against the ACT government, the federal government, its privately employed black-shirt security forces and anyone else that may have given the orders. These attacks with so called 'non-lethal' weapons were unprovoked and targeted peaceful, unarmed civilians exercising their Constitutional right to protest.
We are closely monitoring the mental, physical, and spiritual well-being of our many friends and colleagues who have traveled from all over Terra Australis to take part in the historic 'Canberra Convoy'.
We are very proud of you and send our love and prayers. We have heard and seen stories of abuse and vitriol aimed at the campers however we also are hearing reports of the enormous generosity and support of the locals who have been bringing food, toiletries, clothing and all kinds of essentials to the camps surrounding ACT and handing them out. It seems that as the public find out what is happening, mainly by word of mouth because of the mainstream media blackout, support across the country is growing. We now estimate that as much as 50% of the population stands in solidarity with our fellow humans in the Convoy.
The lack of singular leadership and the many separate groups is apparently making it difficult for the authorities to plan and respond to the protesters.
The urgent move to mandate the death shot for entry to ACT is a desperate move by our dictators to stop the protests that may finally show the public where the government stands on human rights and freedoms. If this piece of legislation gets through all that will happen is that our Marxist Communist government will have to go back to the whack-a-mole tactics that we have come to expect from them and their corporation Stasi bully boys and girls.
Meanwhile we hope to be able to offer some technical help very soon to the Convoy organizers to reduce interference from agents provocateurs (controlled opposition) that have been attempting to disrupt actions on the ground by posing as activists and delivering false information about times and places etc..
---
The 1900 Australian Constitution
Listen to an audio version
CHAPTER 12 - An Act to constitute the Commonwealth of Australia
[9th July 1900.]
If you can't find the time to read the 26 or so pages then this might be the way for you to learn about the original Constitution. If you can't make the time to even listen to your rights - they are outlined in the Constitution - you should not complain.
It has been said that: if you don't know your rights then you do not have any..
In Terra Australis at this time all of us who see what is going on in this land need to get up to speed with whatever rights we do actually have before they are completely removed by the new regime. Many feel that there is not much we can do; many feel we are loosing the war as the globalists ramp up censorship in a last ditch effort to silence us;  many of us are feeling the fear that comes from impending loss of assets and other material things; we are feeling the anxiety associated with how to protect our loved ones, particularly our children, from state ownership and corporate physiological control; the aggressive response by private state owned security forces has created an atmosphere of constant apprehension and for many of us, PTSD symptoms..
The fact is that if we were so easily controlled there would be no need for government overreach. The local,  state and federal governments would have no need to force our cooperation in any matter. The truth is that we the people are waking up one by one & day by day. Tech censorship alone cannot impede our ability to physically communicate with each other and tell our truths. The harder they push back against free speech and personal freedoms the closer we are to success. We are so to speak, over the target.
Now more than ever its critical that we know our rights and fight for them - if we do not we may loose them forever.
"Indeed, the Constitution is the fundamental law of Australia binding everybody including the Commonwealth Parliament and the Parliament of each State. Accordingly, even an Act passed by a Parliament is invalid if it is contrary to the Constitution."
The Australian Government Solicitor October 2010

These MP3 audio recordings (created by the Parliamentary Education Office) of the 1900 Australian Constitution are delivered in 12 parts based on the order and structure of the original document.
Click / Tap here to see the file list and listen to and audio recording of the 1900 Australian Constitution >>
The crew at Free Australia Today has taken a break from organisational activities and is having a well earned break to attend to personal and family matters long neglected for the last 20 months. Apart from from doing what we can to contribute to the folks in ACT with the Convoy we will be concentrating on helping business owners and employees cope with threatened quarantines, closures, fines and unemployment for transgressing so called 'mandates' and 'directives' which we and our red pilled lawyers believe to be unlawful. Our attention is on education - helping people understand not only their right to not enforce mandates but also to clarify their legal exposure for following instructions to mandate. Following instructions that are neither lawfully enforceable or punishable may well lead to lawsuits against businesses from ever growing number of disgruntled public or employees.
We will of course continue to bring you merchandise and gear that carries the right messages and whose sales contribute to the costs of our work.

---
---
---
It is the Government that will fine a business for breaching the 1988 Privacy Act. The Human Rights Commission, a taxpayer funded department, is already gathering cases across Australia. The cost to individual businesses can be in the hundreds of thousands of dollars. Can we afford to risk the cost of legal actions and financial settlements for perhaps well intentioned or unwitting acts of discrimination or breaches of the Privacy Act and other laws? In addition, businesses are liable for the injury or death of an employee who has been forced to take the jab to keep their job.
---
Many shires are acting to become a pro-choice regions. They are not upholding ANY vaccine status segregation. We hope to inspire all shires across Terra Australis to do the same. This can be achieved through education and cooperation.

---
---
---
An interesting list of
more

than 28 names

>>
Take a look, judge for yourself, and keep digging. Is it time to lift the 90 year suppression order yet? If these names are innocent then they have a right to defend themselves - if not we need to see justice done.
---
---
What is in the 'vaccines'?
To begin with, there is a page at https://www.health.qld.gov.au/news-events/news/whats-really-in-a-covid-19-vaccine which tells us that:
" The ingredient list in a vaccine looks a little more complicated than a packet-mix birthday cake, so it can be a little intimidating at first. But don't fear, we've got all the information you need to make a safe and informed choice."
It goes on to inform us that:
"The main ingredient in all vaccines is plain and simple water." Whew!!!!

Once you have read this far (and its not very far) you may feel like there is not much more to know - however for the more curious the information continues and certainly does become a "little more complicated" - in fact it is absolutely horrific..
Read the full article here and see what is really in the 'vaccines' >>
---
---
Join the Free Australia Today crew & include your mobile number so we can easily share fresh content with you.

---
'Friendly' Businesses Directory Listings

Free Australia Today membership also means you have access to our 'friendly' (allied / red pilled) business directory. You can list your own business or service there, add providers you feel deserve a plug, and find businesses that are on board for us all to support and trade with.
We have a few other social media accounts and websites that we post on and monitor.
---
---
---
---
---
---


Thanks to our fellow freedom fighters in the Netherlands. Wear your heart on your sleeve - find a piece of red fabric (felt is good), cut out a heart shape, pin it to your sleeve - its that simple..
Every time we see each other with a heart on the sleeve we will be sharing solidarity and identifying ourselves to each other.
If you are crafty souls - make lots of them and give them to your awakened friends, colleagues, and loved ones.
---

The White Rose is a movement that originated in Germany as a movement of resistance and protest for students in 1942 against the Nazi regimes oppression and brutality. 'Weisse Rose' was a non-violent, intellectual resistance group lead by brother and sister Hans and Sofie Scholl.
In 1942 the lives of average civilians were monitored for any deviation from absolute loyalty to the state. Even a casual remark critical of Hitler or the Nazis could result in arrest by the Gestapo. The young people were motivated purely by idealism, the highest moral and ethical principles, and sympathy for their Jewish neighbors and friends.
During the summer of 1942, Scholl and a friend composed four leaflets, which exposed and denounced Nazi and SS atrocities, including the extermination of Jews and Polish nobility, and called for resistance to the regime.
The leaders of the group were denounced and arrested by the Gestapo for opposing the Nazi regime. They were tried and subsequently executed as 'political traitors' on 23 February 1942.
In 2021 White Rose activities are once again being undertaken in good conscience by souls across the world. Click here to find out more >>